scottystitch
Member


Okay folks. I think I may have done something wrong. I was expecting the image of the track plan to be clickable so it could be biggerised (it's a word now), but alas it isn't.....
Anyway, to give some background to the project (and you may wish to sit down for the saga), Glasgow North was born out of a previous project, the one I really thought I wanted to carry-out, Perth General. Perth General had a circa 5 year planning process, not helped by a bout of emotional illness, divorce, house move and all the other aspects of life that get in the way, but throughout everything it gently simmered away and I was able to keep popping back to it and refining, and improving, the layout. Ultimately the layout construction was never started, beyond an initial fiddle yard (and in an earlier iteration, a helix from a low-level fiddle yard to the station board above. In that respect, the time was not wasted, and I learned a lot about what not to do as much as honing good skills.
The Anyrail plan for my Perth General is displayed below for your perusement (yes that's a word now, too), and is as near to scale that I could make it within 17.5ft length of garage. I scaled Google Maps to give me the right scale in Anyrail and used it as a template for the track layout. I combined this with old OS maps on the NLS website, along with period photographs to get as a near an accurate plan, within the confines of PECO Code 55 pointwork. Unfortunately there were some compromises, the most obvious of which (for those familiar with the prototype) being the culling of the line to Dundee. There is a small bit of compression to the main platforms, but not much. Anyway, initially I thought I could live with said compromises, and to an extent, I suppose in the end I could have. The plan still had the fundamental elements of Perth; the carriage shed through the wall, the roadway ramp down to the "island" of platforms 4 through 9, etc.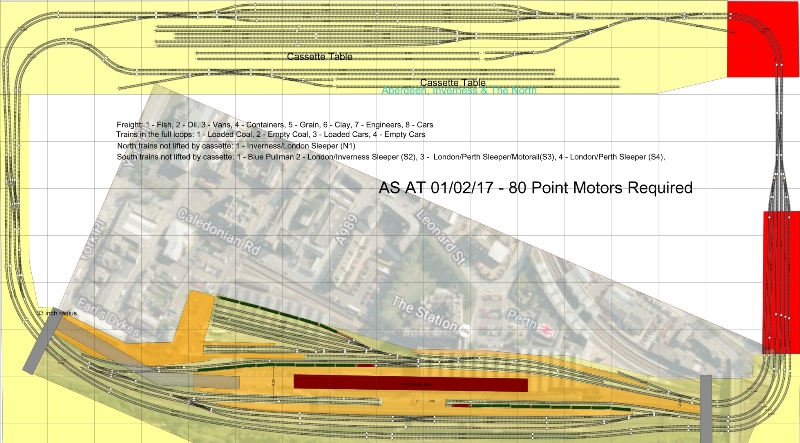 However, when I came to simulate operation of the layout, using paper platforms and flat cardboard counters representing trains, it all got a bit overwhelming and there was a real danger that operation would be very a disjointed affair. Add to that the fact that there was very limited photographic and videographic opportunities "Built into" the plan, I reluctantly came to the conclusion that it would be best to abandon the idea.
A potential problem with abandonment, of course, was what to do instead. This was especially troubling since I had already amassed a reasonable amount of stock, principally for the Glasgow Buchanan Street - Aberdeen route, via Perth. Indeed, the overriding factors leading me to choose Perth for the project in the first place was, a) I was raised in Perth, only leaving in my thirties, and b) I wanted to depict the lightly loaded, A4 powered, 3hr expresses between Glasgow and Aberdeen. I also wanted lots of through freight trains. Perth in the sixties, was a very important railway town, the Crewe of the north some called it, and it had something like 6 London trains arriving and departing or passing through it da And motorail and sleeper trains at that. Fantastic stuff!!. N gauge gives the possibility to model those trains at scale length.
So what to do instead? Stirling was a possibility, but it was as complex a station as Perth, in most respects, and again like Perth, it wasn't a terminus, so you need space to get railway in and out of both ends. Aberdeen, for the most part was/is a terminus with, I think, 4 through lines, but there was something about Aberdeen that I didn't like, maybe the expanse of sidings immediately on the approach, that I wouldn't be able to take on for space reasons.
That left Buchanan Street. It was almost ideal, except that, a) there was no through freight opportunities and b) it didn't serve London or the south. Principal destinations were North, i.e. Stirling, Perth, Dundee, Aberdeen, Oban and Inverness. I really wanted long sleepers............
The answer came from a website, I believe called urbanglasgow, and on the forum I saw discussed a proposed station born out of the Bruce Report, designed to modernise the post war city. In it, Glasgow Queen Street and Buchanan Street would be closed and replaced by a huge station complex called Glasgow North. Similarly, the proposal was for St Enoch and Central , serving South of the Clyde, to close and a new Glasgow South to be constructed. Ultimately, of course, it never happened, but who's to say it couldn't have, particularly with some tweeks?
So, for your pleasure, or otherwise, I present my alternative history of Glasgow termini north of the Clyde.
The time is sometime in the early to mid sixties.....on a thursday......sometime around lunchtime.......Ford Prefect has just unravelled his towel onto the grou.....wait, that's a different story altogether!
(to be continued...)
(I hope I haven't bored you all to tears...........)



____________________
Glasgow North Planning Thread:

http://www.platform1mrc.com/view_topic.php?id=1831&forum_id=6

"My goal in life is to become as good a person as my dog already thinks I am." anon.