Gary
Golden Goat 2017


I specifically wrote this for jakesdad 13 (Pete) as he hasn't had luck with uploading video to youtube. This is fairly straight forward and anyone can do it !

Step 1. Open youtube page and sign in, then click on the Upload button in the top right hand corner (circled).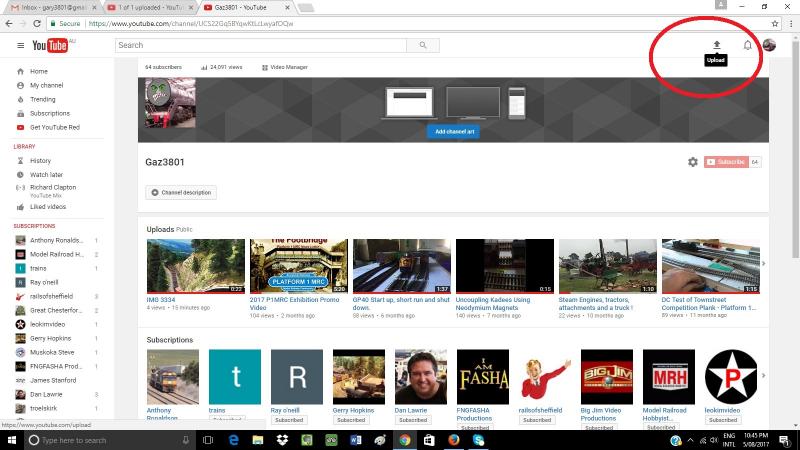 Step 2. This page will appear and click on the select files to upload.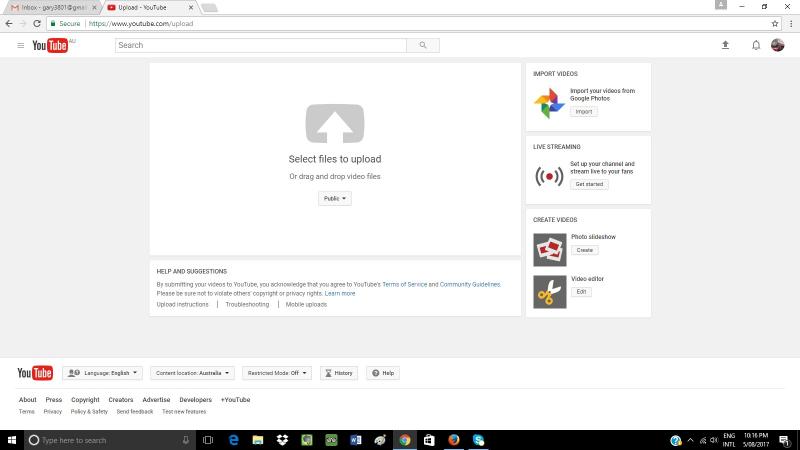 Step 3. Choose a file from your computer. I have quite a few different files. Click on file to open.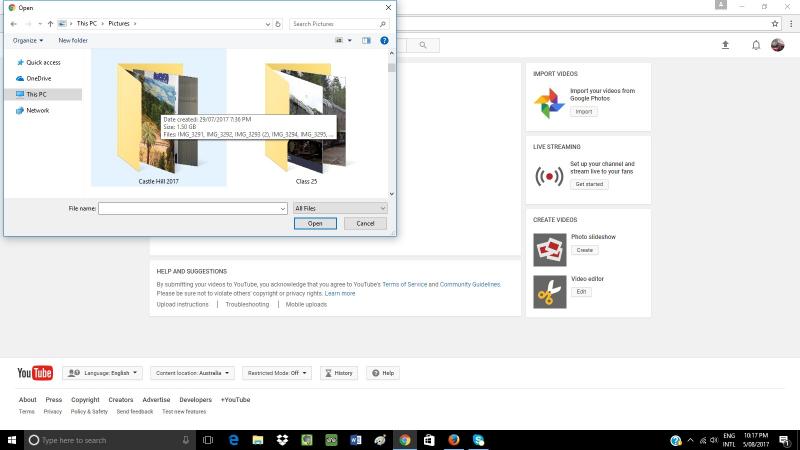 Step 4. Select video file from your file. Click on selected video file then click on Open.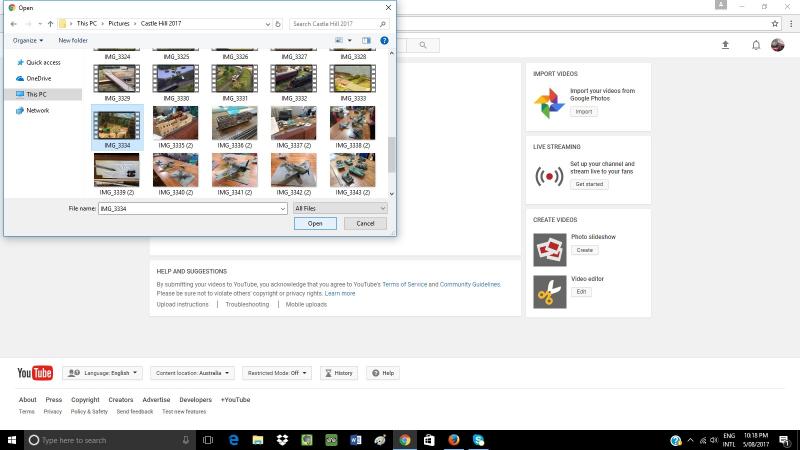 Step 5. The video file will start to load. In this pic below, you can see that the counter (?) is at 33% and still loading.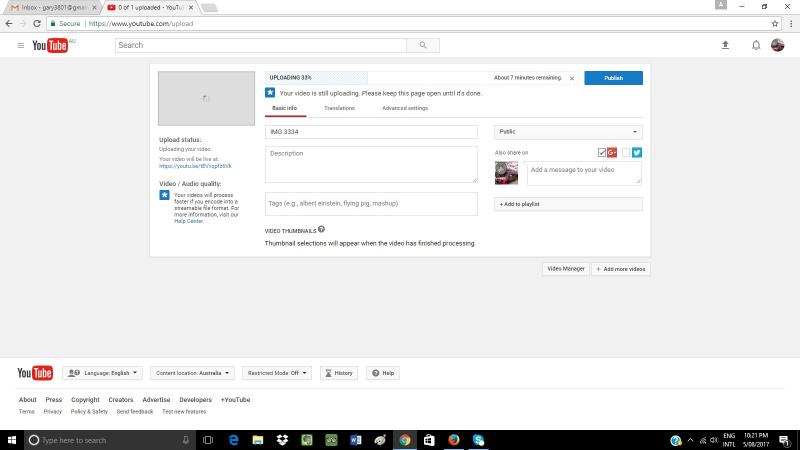 Step 6. Add any text in the boxes, ie the Description and Tags boxes. In the pic below you can see that I have added text and that the video is now ready for processing.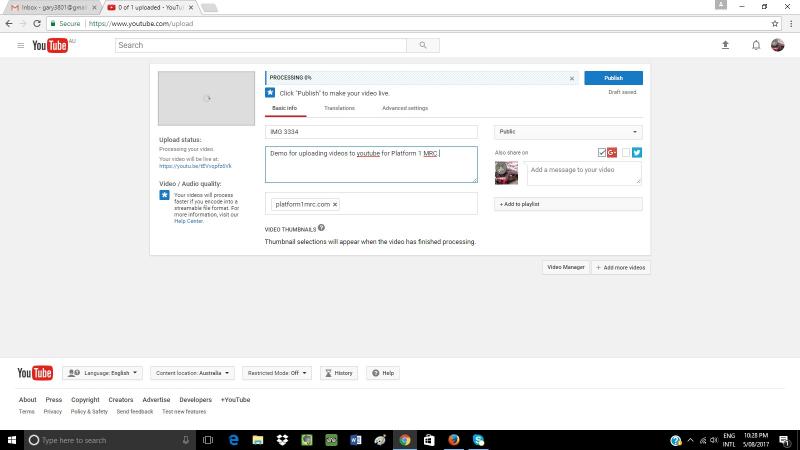 Processing complete.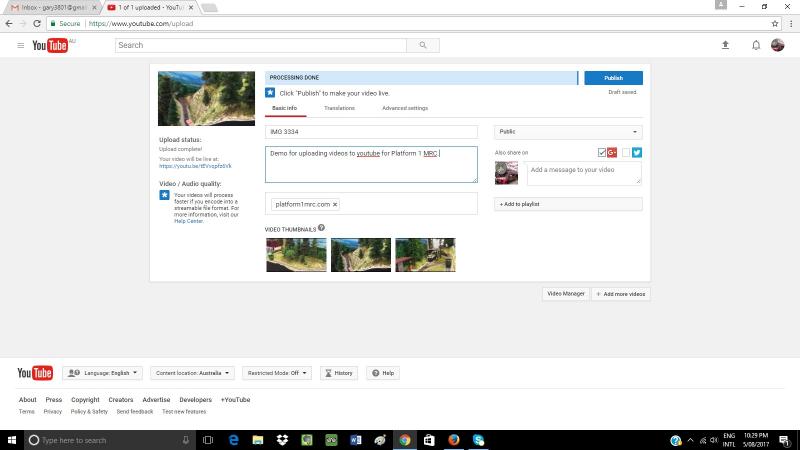 Step 7. Click on the Publish button.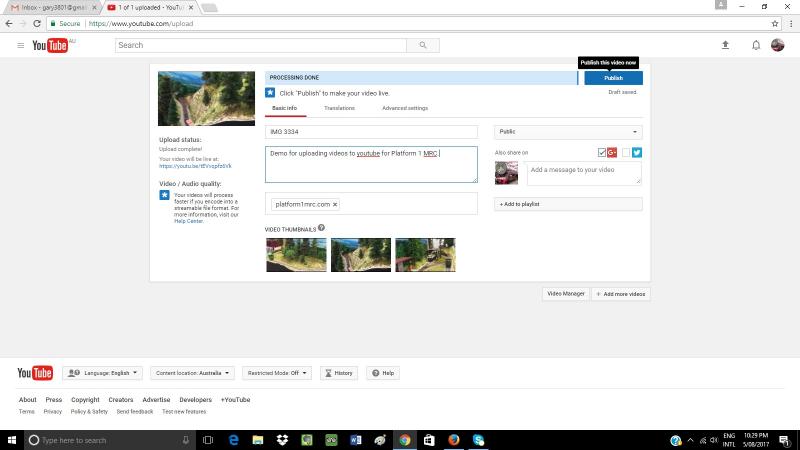 Step 8. Once Published, this screen will appear. Click on the image and you can watch your uploaded video on youtube.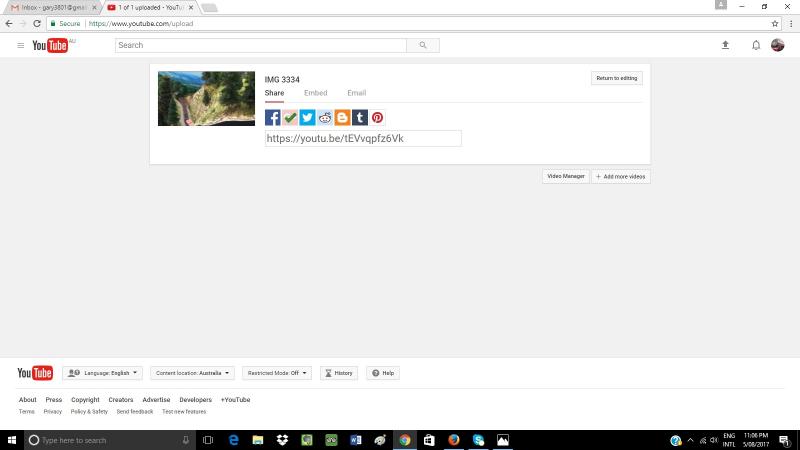 Like this...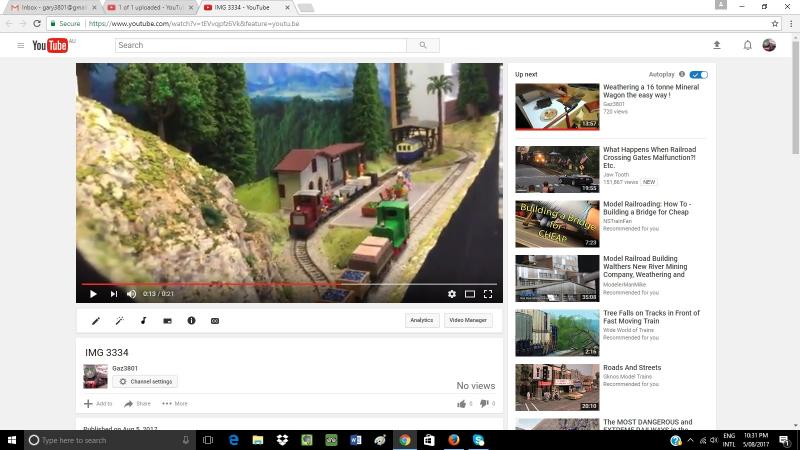 Step 9. If you wish to share the video with Platform 1 MRC or any other form of social media, click on Share. A box will open with a highlighted coded message. Right click your mouse and click Copy.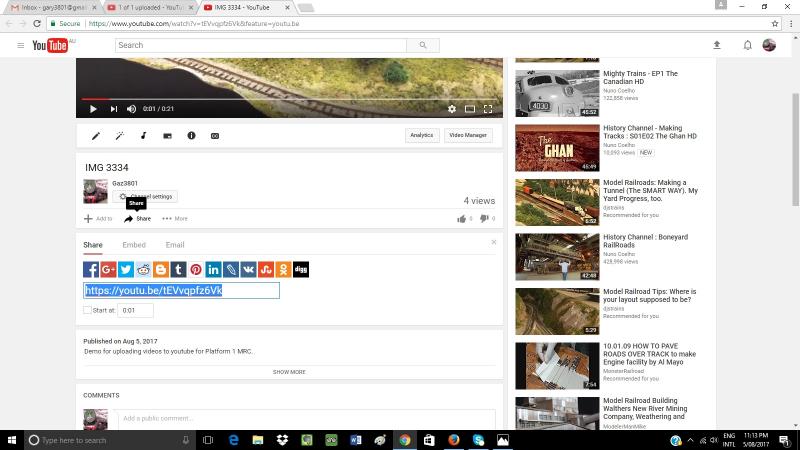 Step 10. Have P1MRC page open where you are adding to a thread. Click on the You Tube icon and this small screen will pop up.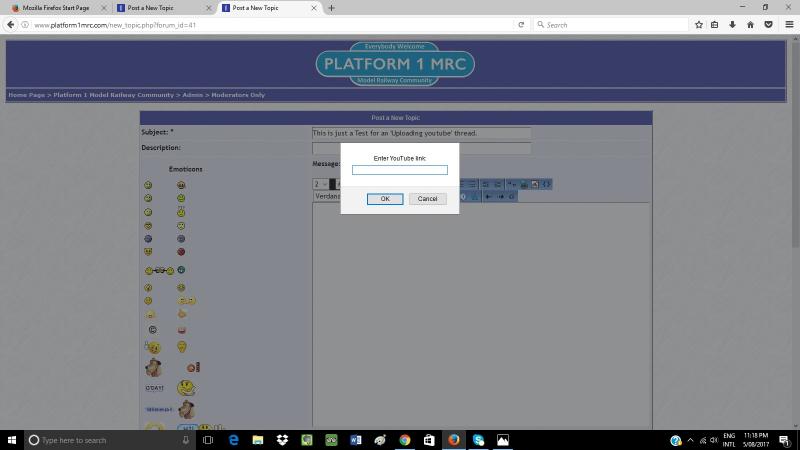 Step 11. Hover over the blue box and right click Paste.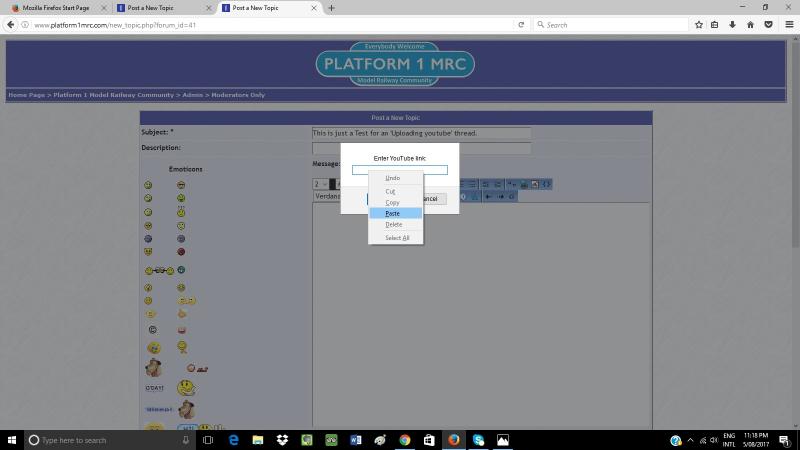 This will transfer the coded text to the box and the screen should look like this. Then click OK.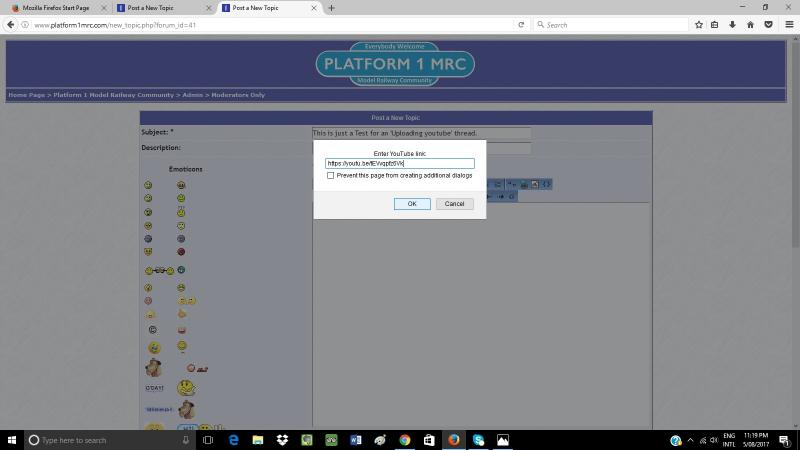 This text will appear on your thread, not the video.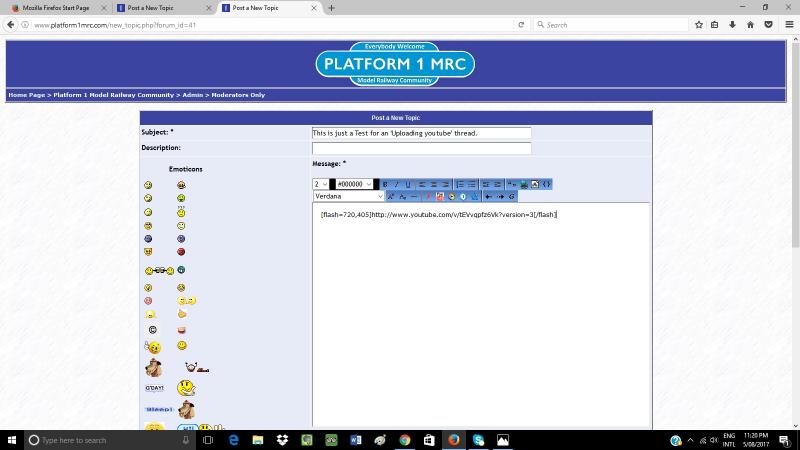 The video will appear on your thread once you have clicked Post Reply.

Like so...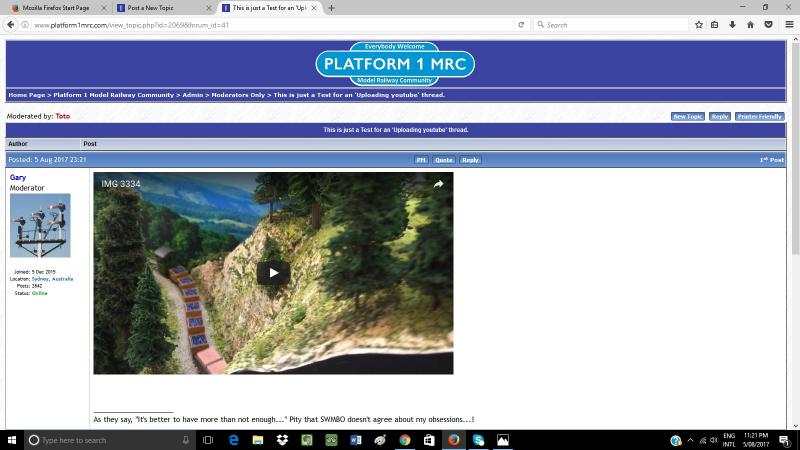 There you go folks, a step by step guide to uploading to youtube and posting on Platform 1 MRC.

Cheers, Gary.

Oh yes, the video I used for this guide, is here for you to watch...





https://www.youtube.com/watch?v=tEVvqpfz6Vk&feature=youtu.be

Cheers, Gary.




____________________
Industry Lane : http://www.platform1mrc.com/view_topic.php?id=90&forum_id=7

Jay Dubyew Nth Yard : http://www.platform1mrc.com/view_topic.php?id=632&forum_id=7

Linden Ford : http://platform1mrc.com/view_topic.php?id=145&forum_id=8