Some time ago now I purchased a consignment of signal kits from Andrew Hartshorne at Wizard Models (MSE kits), one of the items I purchased was the LMS/BR upper quadrant cantilever bracket signal kit. The kit contains an extension to the landing which allows for a longer overhang, however the column is for making the prefabricated channel and welded plate variety which I did not want. Now what I did want was to scratch build the tubular column version which is representative of the Elton Crossing number 15 Up Home signal. This was part of modifications to Sandbach Junction prior to electrification in which Elton Crossing box became the fringe box to Sandbach and the old wooden McKenzie & Holland lower quadrants were removed along with some track rationalization. So here are the pics.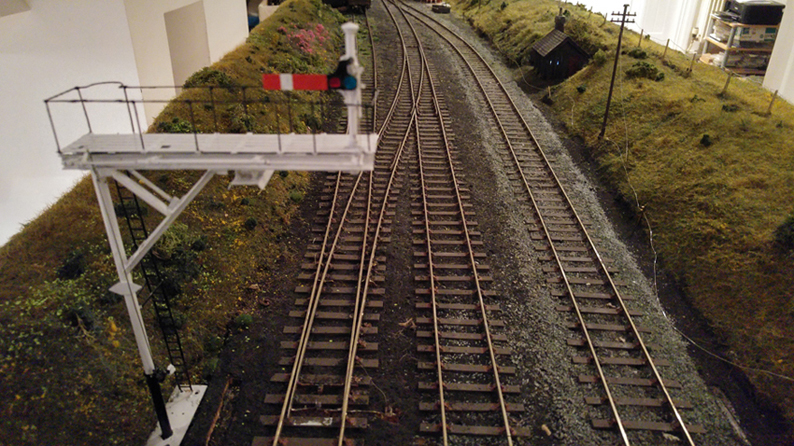 The signal model modification involved discarding the etches for the stem and fabricating a new coupling boss to hold the landing onto the tubular post and bracket assembly. The post is 6mm o.d brass tube which in scale terms makes for a 10 inch post, the LMS spec states that for bracket signals above 25 feet but no more that 35 feet in height the post diameter is 11.5 inches and for brackets below 25 feet the post diameter should be 10 inches. My signal is just under a scale 25 feet in height.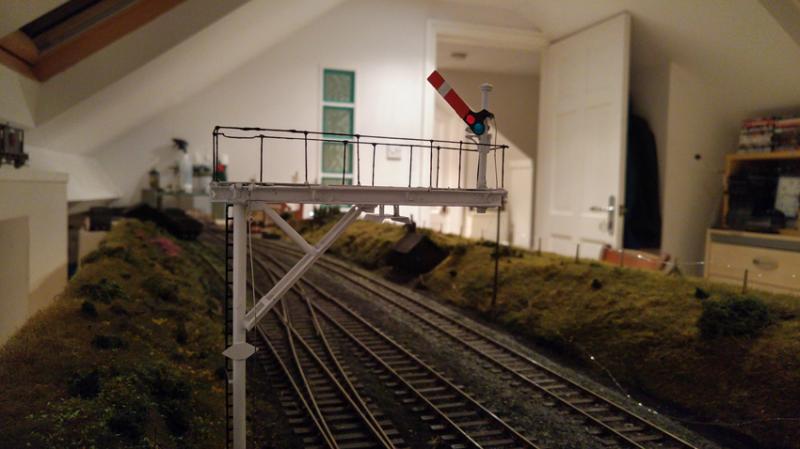 I have just located this signal for the photographs, it still needs to have the black band painted in behind the track circuit diamond plate and the Adlake lamp is not fitted yet, this will contain a warm white nano led with fine wires hidden under the landing channels and column. the resistor for this will go under the boards out of the way. You may notice some wire trailing along the cess next to the Down Sandbach track, this wire is 0.3mm dia silvered jewelers wire which will be looped through the signal pulley wheel posts I am fitting. This is purely aesthetic, the pulley wheel posts are brass casts by C&L Finescale and I'm going to put the chain wheels set on benches in also... no expense on detail is spared here.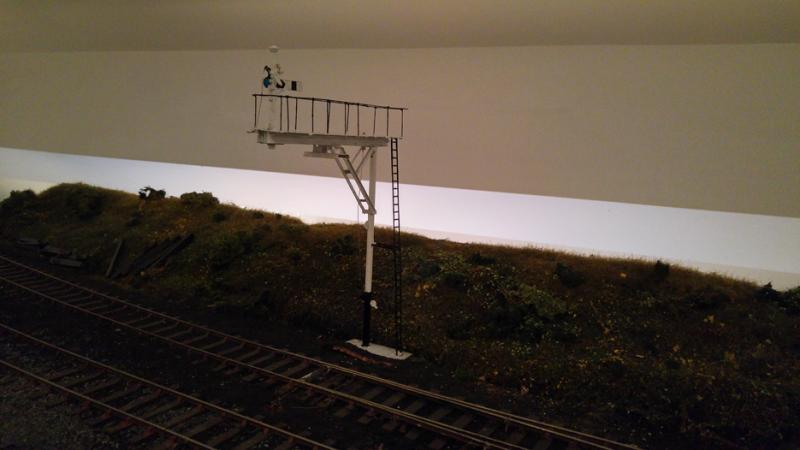 And a view of the back of the signal, the base will be hidden with fine ash particles to merge in with the surrounding ground.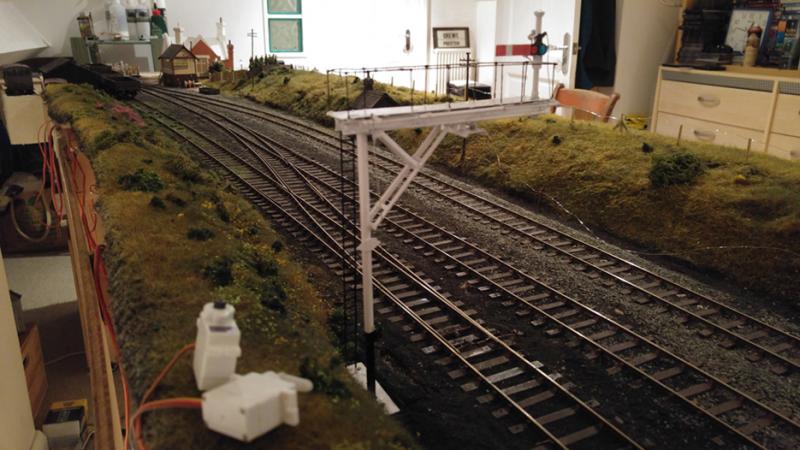 Now there are two servos here, the second servo is for a yellow ground signal which is also nearly finished, this is number 14 signal and will read through 11 crossover points and onto the single line in the Up direction and up to the signal by the crossing gates. the yellow disc means that 14 signal can be passed at caution for movements up and down the Co-op coal siding the coal porters shed and loading stage can be seen in the distance. More about this build later.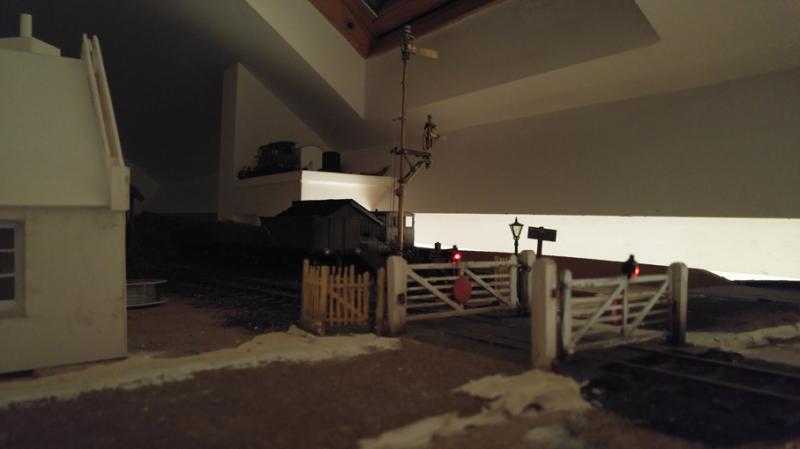 This is a low light shot showing the gates which are now illuminated with nanos, the protecting signal can be seen behind and a lot more work is still needed before it can be hooked up. The gates will be servo worked individually since in the days of the Wheelock branch they were hand worked by a crossing keeper under the jurisdiction of the signalman.

Last edited on 14 Jan 2018 02:48 by Is Line Clear



____________________
Building the Elton Crossing layout and currently converting and detailing a Hymek D7044