Dr Tony
Member


I'm a surveyor, and our company does a lot of 3D laser scanning of things, all sorts of things.
Sometimes we get to scan railway things which can help with modelling.
Lately we have been scanning Redfern Station in Sydney, a fairly major one, with 10 above ground platforms (and one un-used dock platform), 2 underground platforms and two "ghost platforms" we have scanned them all.
From all this laser scanning we have to make a 3D CAD model of everything.
On platforms 4-10 there are 4 A-10/A-11 style buildings, the standard NSWGR brick buildings of the time.
I thought when modelling the wrought iron brackets for the awnings I could make a simple cell in CAD, then just apply to them all, after all I have seem people selling laser cut wood ones for station buildings and other people complaining about the brackets in the old AMRI suburban station kits not being quite right.
When I applied the brackets from the building on platform 10 to the one on platform 9 I got this problem.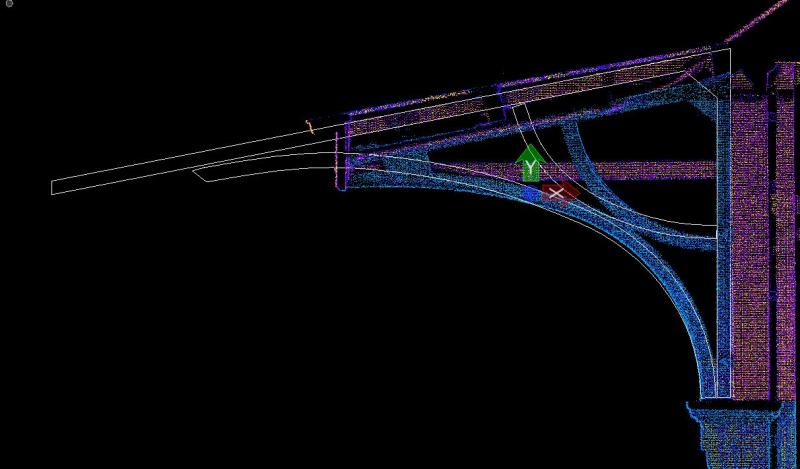 The white line is the outline of the bracket from platform 10. The blue/yellow/purple dots is the "point cloud" which is the output of the laser scanner that we use to model all sorts of objects into vector format. These images are from cross-sections with the model and the point cloud showing to emphasize the differences. The horizontal row of points is a water down-pipe.

The length is all wrong, but this would have been modified for the clearance of the slightly narrower platform. But it is also worth noting the upper curved part is not the same. The white outline is from a b-spline approximation to the curve of the bracket on platform 10, the bracket on platform 9 is actually an arc, with a fixed radius. The height is also wrong.
Other platforms had the curves right but the lengths wrong, like this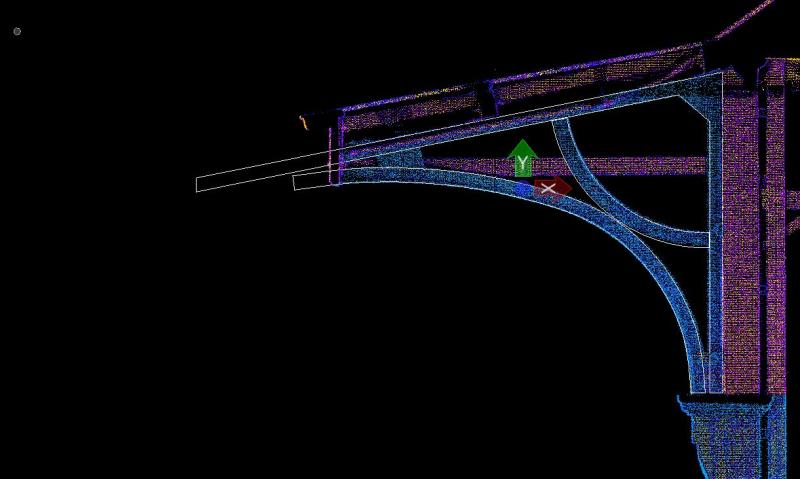 Finally a picture of the point cloud lining up with the white outlines of the model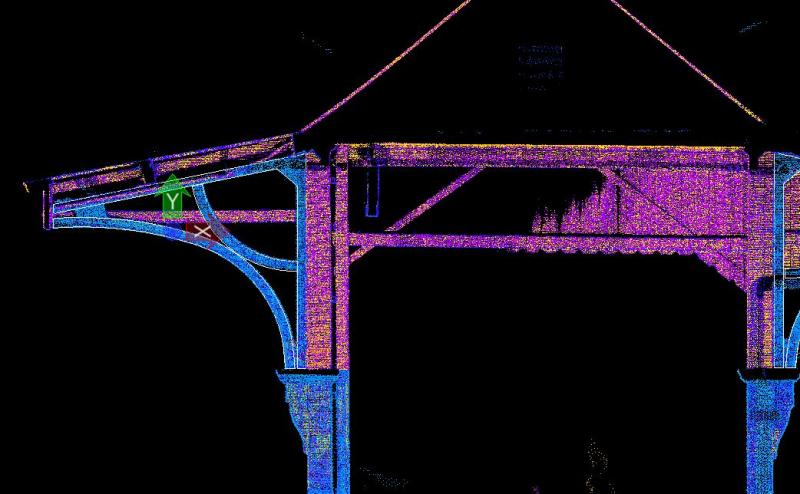 It turns out that platform 10 was built slightly later than the others, but at a cursory glance they would all appear the same. Without the scanner it would be very difficult to pick this difference up.
The moral of the story is don't assume one size fits all if you want real accuracy.
I will have a few more interesting scans of Redfern soon, to show the door and window details, but also roof angles.
Cheers
Tony





____________________
My blog
http://govettridge.blogspot.com.au