The plan of the board layout is shown here in the first picture. Basically we are using 2 types of boards.
1st type is the scenic open type as per the above build.2nd is basically an internal door 2040 x 820mm, sold at Bunnings for $26 approx £12-14  (uk members Bunnings = home depot store, not sure whats left open over there now.)


These boards are for the storage loops with no electrics or point motors mounted under the boards, all will be surface mounted. They make a good lightweight easy to support ,nice and flat, cheap as well when there's over 6m of boards to build in the storage section.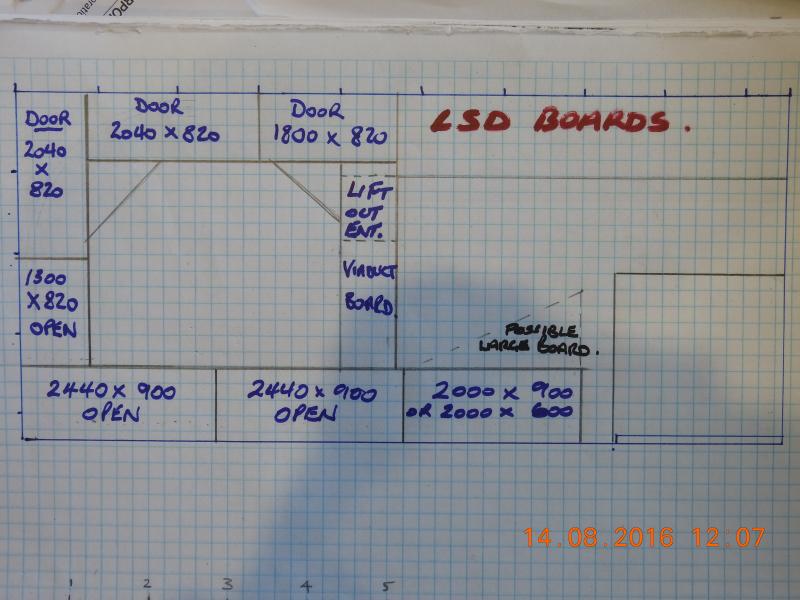 The basic track plan is a branch line from LSD curving round to meet two main line tracks via a curve diamond crossing double slip, which will allow the trains to run as many times around the inner loop before branching off the inner loop to the goods branch. This line will drop down on the inner most curve to then pass under the viaduct board on to a new scenic board / boards.
(The plan is that anyone helping me to build this project can build their own scenic board, max length 2m x either 600mm or 900mm or possible up to 1.2m. They take ownership of this board, which can be built with any theme they want. Once the layout is up and running we can then change the end board for different running sessions plus they will also then have their own board to take home and display their own stock on or run with a small fiddle yard board.)
Once the train has "finished business" on this board it returns up the goods loop to cross the inner mainline loop on to the outer mainline loop, again for as many times around the loop before going into the double slip to go back on to the LSD branch line.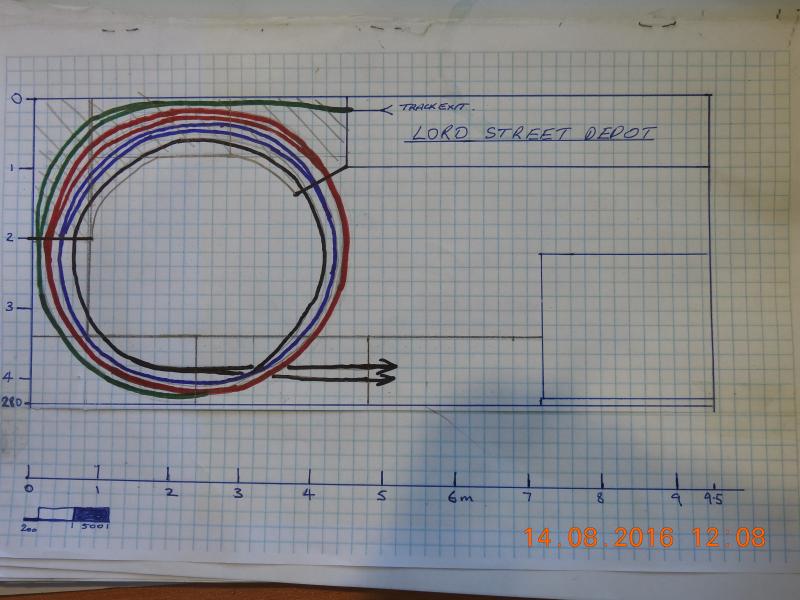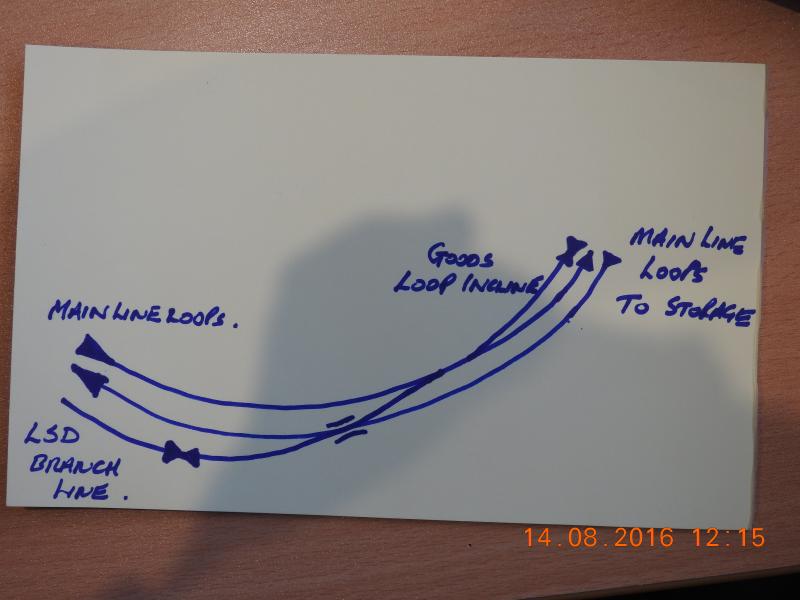 The non scenic door boards have the curves set at a 6' Radius while on the scenic board we have managed to open the curves out to 7'2" max which should give good running for the maximum length stock which will be  two suburban coaches (57') with either the new Panniers we have ordered or the 0-4-2T . The largest goods train will be 12 wagons and a 43xx from Lion heart.

There will be a scenic board for goods exchange on the inner board at the bottom of the plan which will be planned out later. There are a few ideas on the drawing board at the moment with a canal scene going under the viaduct, track work in cobble stones/roadways and a small engine shed coaling area......

Kim

Last edited on 14 Aug 2016 06:54 by Kimbo



____________________
LSD Build- http://platform1mrc.com/view_topic.php?id=290&forum_id=5&page=1
New extension to LSD- http://platform1mrc.com/view_topic.php?id=977&forum_id=5

Hymek build x 2- http://platform1mrc.com/view_topic.php?id=1899&forum_id=51